No, not the socks into which he stuffed documents. I'm talking about Socks, the cat.
Hillary dumped an innocent cat when he was no longer politically useful. But she picked up a convicted national security risk, and made him an unofficial adviser to her campaign. Could it be she expects him to be useful? Has he done more for her than Socks did?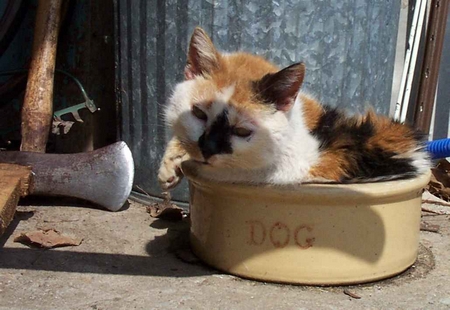 This is a photo of our Calico Cat, caught sleeping in the dog dish again. That may have been in 2002. She has since died, at about age 16. And more recently, E-Flat, too, has died, also at a very old age, leaving us with no cats at all. (Mittens and Theophrastus died many years ago.) Somewhere in between Calico and E-Flat, Toelpel died. He was a black Lab mutt, a contemporary of Calico. So there are no animals to keep the mice, chipmunks, and whitetail deer at bay. And it's the time of year when mice are trying to move indoors to winter quarters.
Everytime I become aware of a stray cat that needs adopting, my wife says no, because she is the one who will have to care for it. (Which is true.) But she has left the door open a bit to the possibility of getting another cat if it's a Tuxedo cat, like Mittens.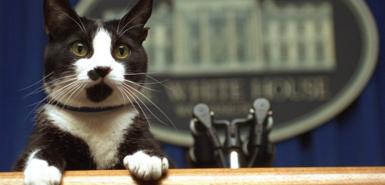 Well, guess what? Socks, too, is a Tuxedo cat. He's pretty old by now, but if Betty Currie feels put upon to have him, I know where he could find a good home. He wouldn't even be required to catch mice, though it would be nice if he could advise us on matters of household security.
I make no such offer if Sandy Burger gets dumped.  I make no such offer to take in Sandy Berger if he gets dumped.  I have a hard enough time as it is finding the papers I need without having to search peoples' shorts.